Traveling And Diabetic? Add This To Your Checklist!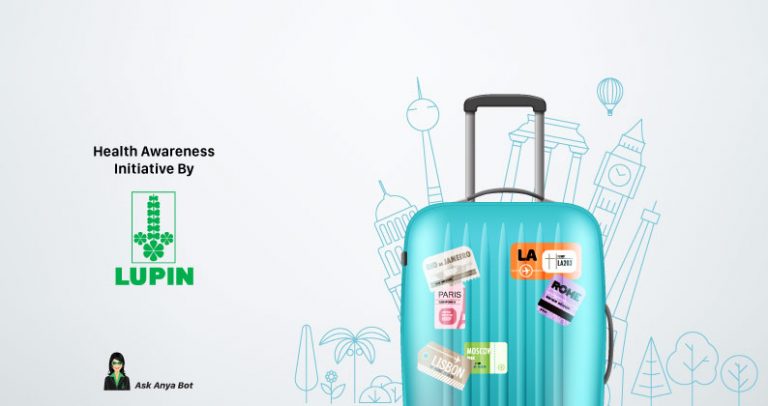 Date: 23/07/2023
When you plan your travel, it is essential to organize several things well in advance to prevent an emergency due to diabetes and also ensure blood sugar control. An organized kit and some practical ideas can be of great value in keeping the blood glucose under control and avoid extreme fluctuations in blood sugar levels.
Medicinal products
If you are on treatment with Insulin (either syringes or insulin pump), it is essential to carry enough supplies with some extras. If you are on treatment with oral medicinal products these too should be carried in enough quantities.
Consult with your physician and get a detailed prescription with all doses of anti-diabetic medicinal products listed clearly along with doses of any other medicinal products (motion sickness, acidity, diarrhoea, constipation, antibiotics, painkillers, etc.) that you may need during the travel period.

Carrying a blood glucose monitoring device is a must along with the required strips, cotton swabs, sanitisers, a waste container to discard used material. Do not forget to include a small first aid kit.

It is essential to check the patient information leaflet for the storage or temperature conditions particularly for insulin since its activity may be affected due to change in temperatures. Accordingly, if required by the manufacturer, you may need to carry ice-packs or cool bags to maintain the temperature of the insulin.

Changes in air pressure may affect the insulin delivered by the pump; hence you may need to disconnect and connect again after take-off and landing. Consult your treating physician for specific information.

Also, weather and altitude affect the test results of glucose monitoring devices, please read the device manually or contact your pharmacist/manufacturer to clear your doubts and confirm the requirements.

Since the dietary content may vary significantly, during the initial stay duration, it is advisable to monitor blood glucose frequently.
Diet
Things to eat which would last long should be packed according to the number of travel days. Dry snacks such as dry fruits, khakhras, should be packed to manage hunger in case the meals get delayed due to any reason.
Fruit juices avoided otherwise should be carried out to manage the sudden drop in blood glucose due to any reason. Likewise, glucose in any form powder or tablets can also be included. Read more about the best foods for diabetics to consume.

Choose healthy local cuisine. If you crave sweets there, you can enjoy however opting for smaller portions and monitoring of blood glucose to keep a check.
Read More: 5 Diet Tips for Diabetes Management
General useful information
Pack medicine supplies in two different bags. Keep essential medicines in hand baggage if travelling by air or in an accessible and convenient place.
Taking care of your feet is equally important while travelling since on them depends on your complete travel plan. Choose appropriate terrain footwear for moving around comfortably.
Weight loss is an integral part of Diabetes Management. To do so, slow down your eating process and speed up weight loss. Diabetes is not the end of the world. Debunk Diabetes Myths Here. And most importantly, follow your doctor's advice completely.
Need more information on diabetes and its related diseases? Ask Anya! Chat with Anya Bot here via Facebook and get more information on diabetes management.
Disclaimer: The above information has been prepared by a qualified medical professional and may not represent the practices followed universally. The suggestions listed in this article constitute fairly common advice given to patients, and since every patient is different, you are advised to consult your physician, if in doubt, before acting upon this information. Lupin Limited has only facilitated the distribution of this information to you in the interest of patient education and welfare.